Motivation, determination and technology will allow you
to live an independent life
,
with the certainty that you are not alone.
After the initial shock of amputation, a new journey begins. Trust in the experts and the latest advanced technology will allow you to regain mobility and lead a normal life, even if it is somewhat different from what you know. The most important thing to remember is one thing: you are the same person, even if your circumstances have changed.
There are different reasons for amputation, from disease, such as diabetes or cancer, to trauma. Where a limb is amputated from affects the strength, capacity or mobility of the residual limb, and determines the prosthesis to be used. You're sure to find just the one you need!
Rehabilitation
information
Rehabilitation is the first step in regaining independence. With the help of specialized personnel, amputees learn to be independent, celebrating that each small achievement brings them closer to the final goal.
The medical team will help you cope with your amputation by answering all your questions. Then comes recovery, which has three phases: wound healing, mobilization and reintegration.
The treatment of pain, whether in the residual limb or related to phantom pain, is key to recovering your quality of life, while rehabilitation, with the help of a multidisciplinary team, will be the key to achieving your independence. Every day, one step closer!
Information about
prostheses
Behind the most modern prostheses are hidden years of effort and research, so that each person who has suffered an amputation can choose the model that best suits their circumstances and preferences. There are prostheses for people seeking safety, for active and sporty people, for children and for those who need support or seek to alternate their prosthesis with the wheelchair.
Until you have a definitive prosthesis, adapted to your lifestyle and aspirations, you will go through different stages that include evaluations, adjustments and tests. Your degree of mobility will be determined, you will be taught the correct walking technique and you will begin to take your first steps. Remember, it's not a race and it takes time, but the goal is ahead of you. Your effort will get you there!
Frequently Asked
Questions
Amputation, rehabilitation and fitting are stages that generate uncertainty and numerous doubts. Being properly informed is one of the keys to adapting to each new situation in the most positive way possible.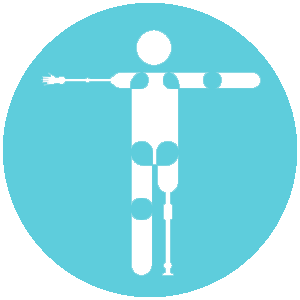 How is the process until the definitive prosthesis is obtained?
​The process to obtain the definitive prosthesis involves different stages. First of all, it is necessary to carry out an exhaustive study of the person to know his or her lifestyle and aspirations.
The next step is to capture the shape of the residual limb and take measurements so that the prosthesis fits comfortably.
Subsequently, a trial socket will be created that will allow the patient to begin learning to walk. Finally, the final prosthesis will be fitted and the follow-up phase will follow.
How does one get to walk naturally?
The rehabilitation team is in charge of monitoring the user's progress and will be at his or her side at all times, teaching the correct technique to achieve a fluid and natural gait.
With the right exercises, the person gradually acquires control of his or her movements and will be able to walk longer and faster distances.
What is the mobility degree?
The K level refers to the determination of the degree of mobility, which takes into account aspects such as age, physical constitution, weight, comorbidities and activity level. The four categories of level K are as follows:
Level 1: ability to walk indoors.

Level 2: limited ability to walk outdoors.

Level 3: ability to walk in outdoor spaces without restriction.

Level 4: ability to walk outdoors with high demands.
​
Is psychological support necessary?
Getting back to an active life after an amputation takes time. It is a stage made up of major achievements and some setbacks, where staying positive and motivated is essential to move forward.
Sharing each stage with family or friends can be very helpful to the amputee, but it can also be very beneficial to have the help and support of a professional psychologist.
​